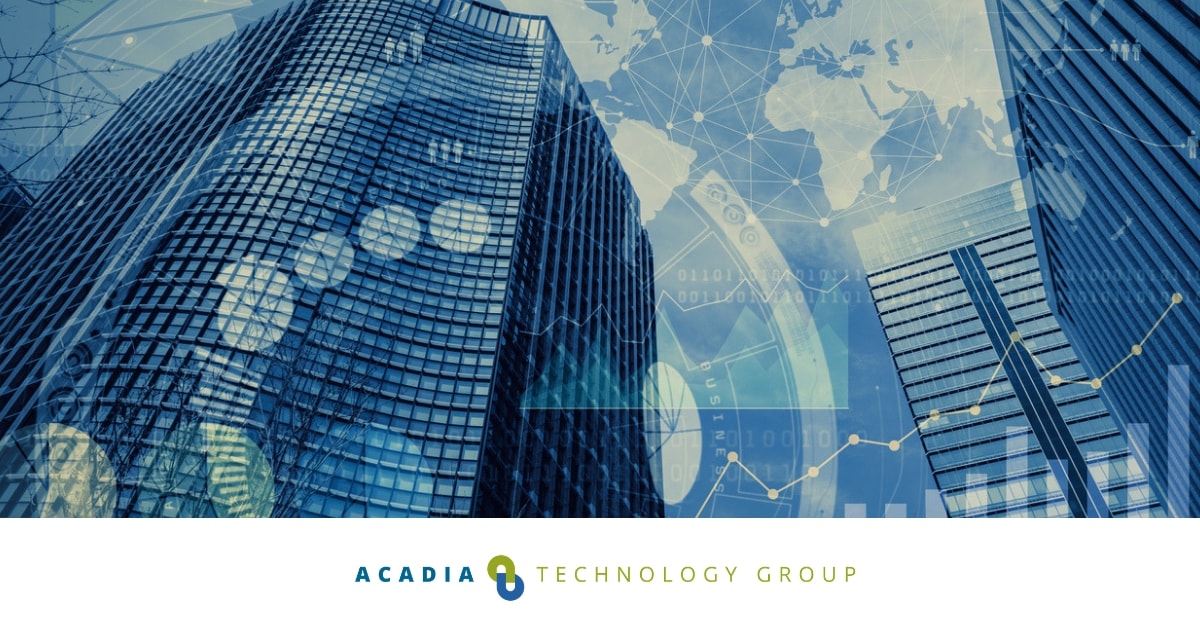 IT spending in the financial industry is on the rise and projected to reach $387 billion by the end of this year. The area growing the fastest? Software investment.
This spike in tech spending is largely because digital transformation and IoT are finally making their way into the finance sector. While industries that manage highly sensitive data, like finance, healthcare and law, are traditionally technology-averse for fear of compliance or security breaches, they are quickly discovering that modernization is not an option. Consumers expect readily available, user-friendly technology – and if you don't provide it, another company will.
As mobile devices, chip-enabled credit cards, biometric identity verification and financial services IoT technology permeate the industry, they're creating new processes, standards and hurdles for financial institutions.
Compliance Challenges and IoT Growth

Emerging compliance challenges come as no surprise to veterans in financial services who have seen regulations slow the adoption of every major technological innovation, from copiers to electronic transactions. Since regulations are necessary to ensure public trust in the financial industry, however, organizations looking to leverage the newest and latest technologies must accept that their implementation can be a slow and expensive process. Rather than rush tech adoption, organizations should take careful steps from the get-go to ensure new implementations are compliant and secure.
Further, new strides in cybersecurity are helping embed compliance and security into IoT solutions. For example, SD-WAN helps ensure security and compliance for financial IoT solutions. Some banks also turn to managed service providers to orchestrate secure technology adoption and integration from start to finish.
Biometrics and IoT Aid in Compliance and Reporting

The thumbprint and facial recognition features on today's devices are paving biometrics' entrance into the finance industry. Several mobile banking apps, for example, now allow users to sign on using their thumbprint or facial recognition.
Pushing this trend even further, CaixaBank in Spain recently implemented the option to sign into ATMs using facial recognition technology.
Biometrics are generally considered more secure than traditional passwords or PINs, as long as organizations do their due diligence to store and protect biometric data carefully.
Banks are also using IoT to give users secure access to financial services during off-hours. Citibank uses beacon technology to allow users access to ATMs after hours through a Bluetooth connection on their phones. This also gives the firm a marketing advantage by allowing it to present customers with offers while they're at the bank. What's more, it can track traffic and wait times, giving Citibank a better idea of how many tellers to staff at any given time.
Future IoT Use Cases for the Financial Services Industry

As digital transformation becomes a necessity, the financial IoT can only be expected to grow. Here's where IoT will likely start playing a large role in increasing financial institutions' value.
Telematics
From car insurance to home-owners insurance, telematics (measuring item usage with sensors) can detect events like injuries and accidents when they happen and help predict and measure losses when a customer files an insurance claim. Already in use in certain instances, telematics will most likely expand with technology and the accompanying regulations surrounding innovation.
Data Gathering
As IoT devices become more prevalent in mobile devices, wearable technology and other forms, the financial services industry has the opportunity to gather actionable, business-relevant data (when compliant with regulations and privacy policies). This information can be used to help financial organizations more accurately underwrite insurance policies, provide offers to the right target audiences and estimate the value of a home due to its IoT-enabled sensors.
Robust Mobile Banking
As mobile banking becomes more and more commonplace, customers expect more than the bare minimum from banking apps. Discover, for example, automatically categorizes users' monthly spending and can give them an instant graphic breakdown to help with tracking and budgeting. Others offer access to free credit scores (without dinging the user's credit), chatbot service, integrations with mobile wallets and more. Think about what your customers want, need and value to start offering mobile solutions that differentiate you from your competitors.
Next Steps: Leveraging IoT for Your Financial Institution

To take advantage of IoT in the finance industry while keeping your business secure and compliant, consider the following guidelines.
Customize solutions and IoT-enabled devices so they meet compliance directives.
Partner with vendors to develop software and devices specific to the financial services industry to make compliance and security the forefront of development and innovation.
Work with solutions providers focused on the financial service sector to bridge the gap between what currently exists and what customers will expect in the future in terms of access and convenience.
This three-pronged approach gives firms a strong plan for making IoT a profitable part of their growth matrix. For more ideas on leveraging IoT solutions to grow your organization, download our guide, IoT Solutions for Time-Starved CIOs.