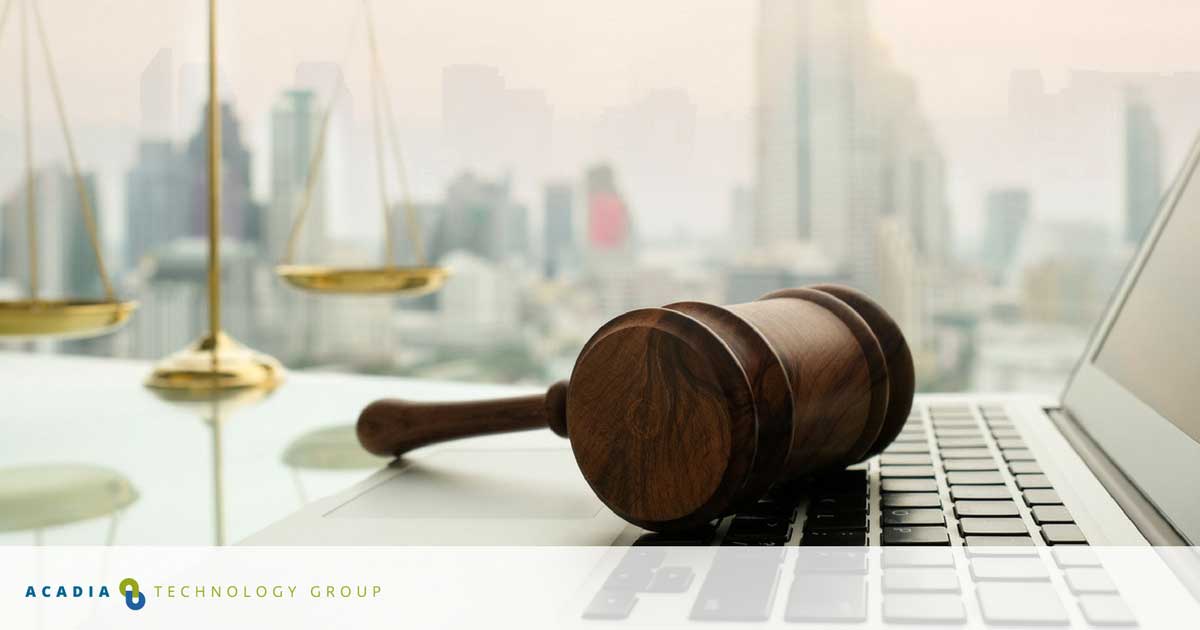 As cyberattacks on business IT networks grow bolder and more sophisticated, law firms have become a prime target for attackers. How will you protect your firm from attacks?
Recent reports show that more than a third of law firms with 10 to 49 attorneys have experienced a security breach.  This can no longer be a problem for just the head of IT, but a problem for the firm's attorneys or corporate legal counsel.
Last year showed ransomware in the legal industry left a great deal of fallout in its wake.  As you come to grips with the limitations of your network's security and agility in a demanding climate, software defined networking (SDN) can be a solid option for protecting your firm's network.
Overcoming Roadblocks in Legal Firm Data Security
In the legal sector, data is king. Protecting, moving, and accessing that data, as well as the communication channels that go hand in hand with the legal strategy behind it, are all vulnerable to wired and wireless networking shortcomings.
Meeting the need for securing the network reveals problems that include:
Document management relating to preserving and protecting clients' intellectual property, privileged communications and work product
Lack of granular access management that can be easily tracked and modified in real time
Secure and high bandwidth remote access for mobile legal personnel
Unsecure storage environments/device workarounds
Email and collaborative platform rule policy management for transmission of sensitive information
Voice, video, and other bandwidth-intensive transmissions across the wired and wireless LAN and WAN
Unpredictable CAPEX for increasing network hardware needs and OPEX for dedicating IT resources for network configuration, operation, and monitoring
These are complex challenges that only legal Industry SDN can solve by bringing simpler, faster, safer, and more agile/responsive networking.
Building a Better Network with SDN
Since most network configuration changes are manual, your IT team may find it difficult to meet deadlines managing the data and protection needs of a growing law firm. By integrating more responsive and automated security traffic monitoring and responses through SDN, they can deliver agile network configurations in real time.
Not just any SDN solution can deliver these benefits. A solution such as Cisco's Software Defined Access (SD-Access) delivers policy-based automation that provides single-pane-of-glass control to a boundless network edge and the cloud beyond.
That means that Cisco's SDN approach for law firms makes it possible to deliver consistent policies and services over wired, wireless, and hybrid networks. This can all be done while reducing both OPEX and CAPEX.
According to a Cisco Customer Education presentation, 75 percent of OPEX is spent on network visibility. SD-Access provides the deep visibility your network administrator and IT team need through automation that delivers Intent-Based Networking. Intent-based systems let the administrator tell the network what to do and SDA automation makes it happen. This brings legal environments the benefits of:
Automating simple single-point network operations, along with orchestration and management of network functions
Granular Identity Access Management that's rule-based with real-time tracking and changes for context for users and devices, including authentication, posture validation, and device profiling
Hardware savings and reduced CAPEX through agnostic network integration
Secure and easily configurable video conferencing, conference calls, Voice over IP and electronic document data transmissions that are secure, simple, and meet QoS requirements, while saving time and cost.
Automating network printing and scanning security protocol authorization and enforcement
As your IT team faces increasing workloads and growing threats, they must respond with a transparent solution that can adapt to the changing landscape. By automating day-to-day tasks such as configuration, provisioning, monitoring and troubleshooting, your IT team reduces the time and costs of network adaptation and issue resolution while reducing security attack surfaces across the network.
To learn more about security threats in 2018, reach out to Acadia Technology Group. We can be your partner in creating an agile, cost effective, and secure network.