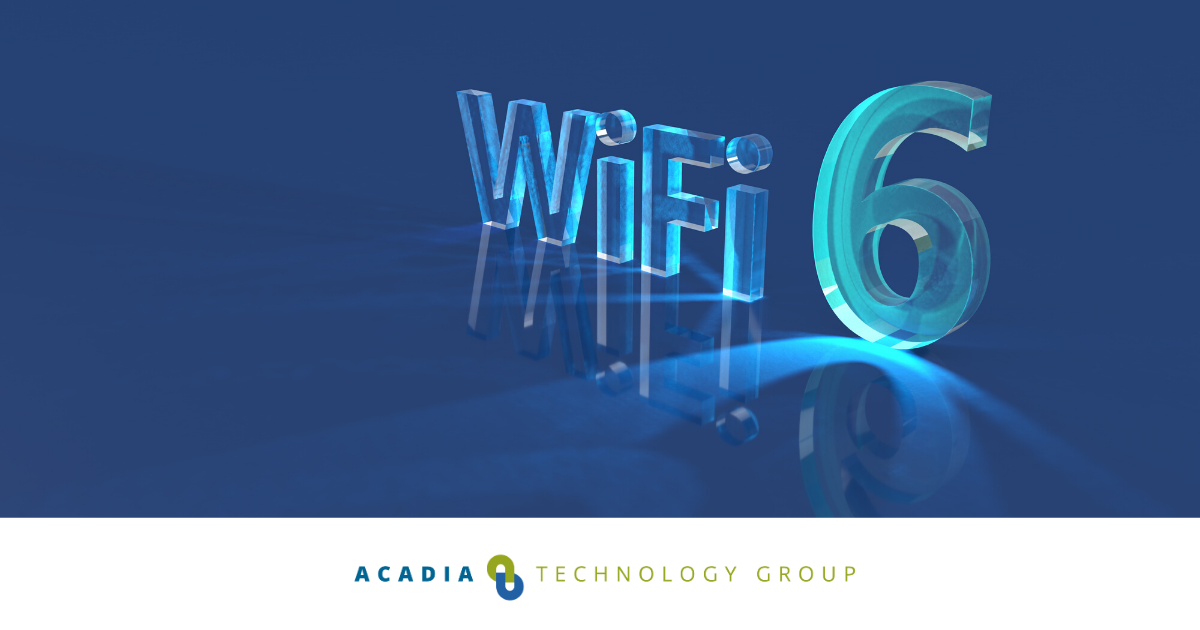 Today's 24/7 world relies on fast and dependable wireless service for devices critical to your business operations. In the past, your essential devices were hard-wired to the network, but that's no longer the situation. You need secure, fast, and reliable wireless service for mobile, IoT, and augmented/virtual reality devices vital to your business.
Some business examples include the medical equipment carts that roam the hospital corridors and the robotic inventory picker at the distribution centers. Retail stores and restaurants take orders using hand-held devices, and entertainment stadiums and airlines use scanners for electronic tickets.
The next-generation of Wi-Fi is here. Positioned to meet the increasing demands for wireless technology, Wi-Fi 6 enhances the user experience for the ever-increasing rate of technology innovations.
How Did We Get to Wi-Fi 6?


It's been over 20 years since the inception of Wi-Fi, and the fast-pace of technology innovation, adoption, and continual improvements are impressive. Here are the Wi-Fi milestones events:
1971: The initial foundational concept of Wi-Fi was first developed at the University of Hawaii with the creation of a network system called ALOHAnet.
1997: The first standard was introduced, 802.11; up to 2Mbps.
1999: This is the year that most would say marks the beginning of the Wi-Fi revolution. The term "Wi-Fi" was first used along with the introduction of the 802.11b standard. Wi-Fi technology starts to be designed into commercial devices. The Wireless Ethernet Compatibility Alliance (WECA), now called Wi-Fi Alliance, was created by six technology companies, including Aironet (later acquired by Cisco).
2005: With commercial users quickly adopting the new technology in Wi-Fi enabled devices such as portable laptops, the word "Wi-Fi" gained wide-spread use, and it was added to the Merriam-Webster's Collegiate Dictionary.
2007: The first smartphone was introduced by Apple, and mobile devices quickly became modern must-have technology.
2009: A new standard was introduced, 802.11n (Wi-Fi 4). Using MIMO technology was used, allowing more antennas to create additional data streams allowing for an increase of almost nine times the maximum transfer rate (54 Mbps vs. 450 Mbps).
2013: Even greater speeds and data rates are achieved with the introduction of 802.11ac standard; speeds reach over 1 Gbps, and data rates ranged between 433 and 2167 Mbps. The demand for Wi-Fi and mobility expands as hotspots become a trend, and over a quarter of the households in the world are connected to Wi-Fi.
Prior to the recent introduction of the sixth generation of Wi-Fi, also known as Wi-Fi 6 (802.11ax), the last significant Wi-Fi innovation was in 2013.
What is Wi-Fi 6?
The Wi-Fi Alliance has introduced a new naming convention for wireless local area network (WLAN) technology. Similar to the naming convention for cellular data networks like 3G, 4G, and 5G, wireless technology is introducing Wi-Fi 6 as the next evolution.
Approved in September 2019, Wi-Fi 6 uses the latest version of 802.11 (802.11ax). The comparison table illustrates the primary differences between Wi-Fi 5 and Wi-Fi 6.

Benefits of Wi-Fi 6

While increased speed is always an improvement, according to the Wi-Fi Alliance, the key benefits of Wi-Fi 6 technology include increased capacity, greater efficiency, and performance for advanced connectivity. These benefits were achieved by leveraging technology that provides better coverage, increases data rates, reduces congestion, and improves power efficiency.
Users have grown to expect their Wi-Fi experience will mimic the experience they have when hard-wired to network. With the ever-increasing demand for high-quality wireless, the network needs to be designed to handle the growth. Wi-Fi 6 addresses the network challenges and enhances the user experience with the following features:
Reliability.
A solid wireless connection enhances client experience particularly for IoT devices and all software applications using voice and video.
Capacity.
One of the greatest challenges in the world of Wi-Fi today is network capacity and coverage. Wi-Fi 6 offers increased data transmission and handles more users per access point (up to 8 users).
Bandwidth.
Wi-Fi 6 enhanced performance by increasing bandwidth with low latency. It has a faster data transfer rate than Wi-Fi 5 for a single-user, but the real benefit occurs in dense environments with many devices when each user can experience throughput up to four times faster.
With so many devices and users communicating with the Wi-Fi network, congestion becomes a problem. Wi-Fi 6 is designed to improve dense usage scenarios; however, all Wi-Fi can benefit from this technology's ability to communicate with dozens of devices simultaneously.
Wi-Fi 6 incorporates multi-user multiple input multiple output (MU MIMO) technology allows a wireless access point (AP) to communicate with up to eight devices at the same time. The use of access points that enable many users simultaneously improves data transmission.
Orthogonal Frequency-Division Multiple Access (OFDMA) technology is part of 802.11ax. It divides the channels into narrower sub-channels that create additional avenues for more users and access points to communicate simultaneously. The technology increases network efficiency and lowers latency.
Why Upgrade to Wi-Fi 6?

A lot has changed in the technology world since the last significant wireless innovation in 2013. The number of users and variety of devices are expanding at exponential rates, and technology innovations require an astronomical amount of data transmitted through the wireless network. How can wireless technology from 2013 possibly handle the volume and complexity required today?
Wi-Fi 6 enhances the user experience with improvements to the wireless network's overall performance with enhancements to the reliability, capacity, and bandwidth. Upgrading your wireless infrastructure to Wi-Fi 6 is essential to maintain your position in a competitive business environment.
Interested in learning how to upgrade to next-generation Wi-Fi 6 to improve your network's wireless performance? Acadia Technology Group is a Cisco Premier Partner with decades of experience, bringing cutting-edge solutions to a variety of markets. Contact us to find out how we could help you.