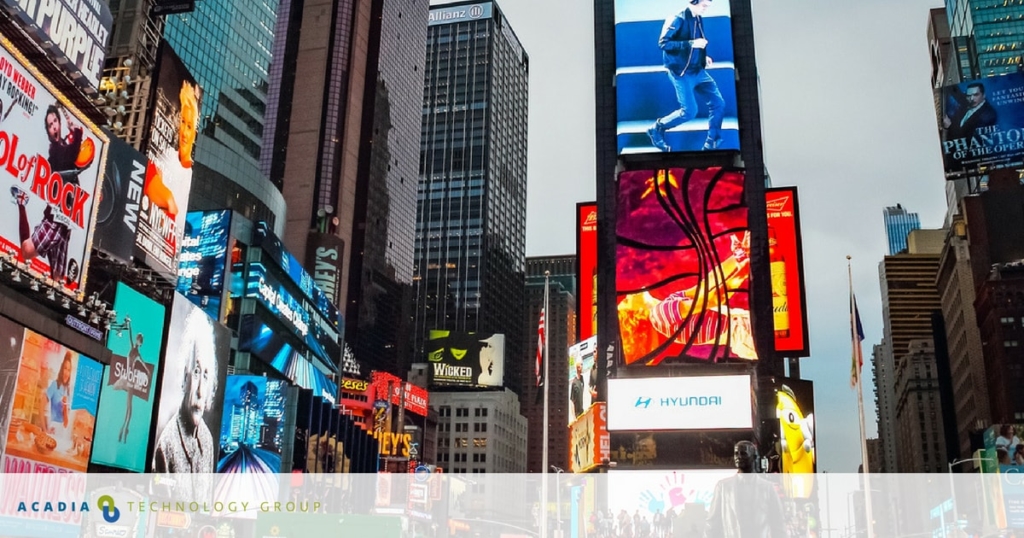 When stadiums and arenas leverage digital signage in their retail environments correctly, they create greater opportunities to enhance the customer experience and increase retail outlet monetization.
For a digital signage system to be effective, it must reflect the way fans interact with each other, the stadium and the event by first meeting four criteria:
Delivering customized design and implementation to meet a particular stadium's needs

Targeting of patrons based on every stadium zone

Delivering dynamic response to user needs in real time through central control

Integrating holistically with high-density WiFi, IoT and network virtualization for targeted and easily changeable interactive retail opportunities
Collectively, these factors influence placement, numbers, configuration and monetization flexibility through opportunities such as display ads, partnerships, branded content and vendor offerings. To realize the dynamic digital signage opportunities with retail in your stadium requires accommodating the retail needs of fans at a sporting event versus a concert or trade show, and the different ways they move through and interact with the venue and digital signage.
Dynamic Digital Signage for Stadium Retail Opportunities

For stadiums, implementing digital signage represents an extra revenue stream by facilitating content delivery for marketing and vendor partnerships through delivery of unique and targeted digital content. This also opens up the possibility of completely "rebranding" a stadium for different events and vendor needs.
Stadiums are finding success with dynamic digital signage that is centrally connected for easy management, targeted offers/sponsorships, and concession routing/wayfinding. This can include a number of monetization opportunities including the following:
Advertising networks with vendor partnerships to display their ads and directing fans to in-stadium as well as after-game sales opportunities at key points in the stadium as part of a full content model and business strategy

Vendor menu changes, availability, and selection as well as routing to relieve line congestion

Branding based on location in a per-zone basis that can range from individual luxury suites clubs and bars to individual designated vendor retail operations along the concourse

Delivering interactive content is based on real-time events such as game scoring, half-time activities, limited sales opportunities, interactive games and more

Digital menu boards capable of real-time changes based on item availability, and vendor changes per event and direction to alternate vendor locations to improve menu presentations and increase concession sales

Outdoor schedules for upcoming games and events that boast game times and ticket specials to increase ticket sales
The power of digital signage monetization can be seen in a Cisco Case Study on digital signage implementation at Denver Broncos Stadium that showed a 50 percent increase in concourse signage revenue. That being said, the true power of digital signage technology is its ability to connect to the fans through high-density WiFi networks. This connectivity through smartphones and IoT sensors provides an additional level of monetization and connectivity approaches that boost the fan experience and the bottom line.
Digital signage can alert fans to numerous opportunities that can change during an event. These monetization opportunities include:
in-game seat upgrades for unsold stock




in-seat food delivery




limited-time offers on merchandise sales, among others.
The first step is to alert fans to these opportunities via digital signage. Simultaneously these opportunities are made available via targeted messages prompted by Wifi and retail IoT sensors to smartphones via apps. The result is that stadiums can increase sales and fan fulfillment experiences at the same time.
Stadium Retail Opportunities with High-Density WiFi

While digital signage displaying paid advertisements is common, high-density WiFi can take the interaction and monetization to the next level by displaying relevant, engaging content during an event based on fan location at specified times. WiFi network integration with digital signage enables the mobile interaction such as in-event trivia games, sales, and short-term offers. This lets your vendors, advertisers, and sponsors extend their advertising reach beyond the big screen and the concourse TVs to smartphone users.WiFi is integral to the fan experience by augmenting digital signage of game and event action with smartphone access to HD video replays and access to real-time statistics and additional content from their mobile devices during live events. App functionality also makes it easier to share content on social networks to allow the amateur commentator to come alive.
WiFi can also facilitate fan security during medical emergencies or unforeseen events impacting public safety through evacuation directions sent through digital signage and routed to user smartphones. Core connectivity across the stadium brings WiFi, digital signage and backend systems through network virtualization. But the further integration of IoT can deliver fan user data via their smartphones that can shape real-time and long-term monetization and marketing in profound ways.
Retail IoT for Stadium Connectivity
The concept of the smart stadium can become more of a reality with digital signage and retail IoT for stadiums through the use of sensors that track individual actions by fans. The fan data from smartphones with customized apps for POS captures what they're buying, where they're moving, and how they're traveling to and from a venue.
To enable data tracking, sensors and beacons can be deployed. Analytics then provides insights for future marketing campaigns, sponsorships and more. Sponsors and event management companies can track fans' behavioral patterns, monitor their location or decision-based data and push appropriate offers accordingly.
How Network Virtualization Affects Digital Signage for Stadiums and Arenas

The WiFi network, transport of IoT sensor data, and the content transmission to digital signage all require highly proactive network virtualization to accommodate bandwidth and routing needs as well as security data monitoring. Without this network connectivity, targeted monetization, messaging and security content cannot happen in real time.
By using an intent-based networking approach your IT team can easily configure the network based on real-world needs. This enables understanding of usage and demands while also facilitating real-time reconfiguration in preparation for future event loads, services, and activities that are added to the network.
While the possibilities of this level of connectivity and monetization from digital signage, WiFi, IoT, and network virtualization in stadiums can be a reality, it requires a level of system integration that can only come from a unified design. By having an integration partner like Acadia Technology Group, your stadium can choose the technology solutions that are designed to work together holistically for increased retail profitability and user experience.